Skip Navigation
Website Accessibility
New BERNINA stitchprecision
2
New BERNINA Pinpoint Laser
New Automatic Needle Threader - WOW
New 4-Point Placement with Morphing
Super Quiet and Fast Module for Embroidery and Quilting
790 Pro Brochure
The b79 Yaya Han Edition opens your world to creative embroidery. It combines a high quality sewing and embroidery machine with the BERNINA Embroidery Software 9 Creator to bring your creations to life.
The b79 Yaya Han Edition is incredibly easy to use, offering a wide range of included extras and lets you be your most creative.
YaYa Han b79 Edition Brochure
BERNINA offers a variety of top quality, sewing tables. These tables are made by Horn of America in the United States.
They are Equipped with electric lifts and provide the optimal ergonomic sewing experience, especially when paired with a properly designed sewing chair.
We do not typically "stock" the tables due to the space required to store them. However, we have tables in the store that you can view and we are happy to special order.
For our Southeast, Alaska Communities on the barge route:
Freight from Juneau to your community is very reasonable.



Click Here for Brochure



BERNINA Luxe Sewing Suite:
BERNINA Sewing Suite:
BERNINA
Lift Table
BERNINA
Sewing Studio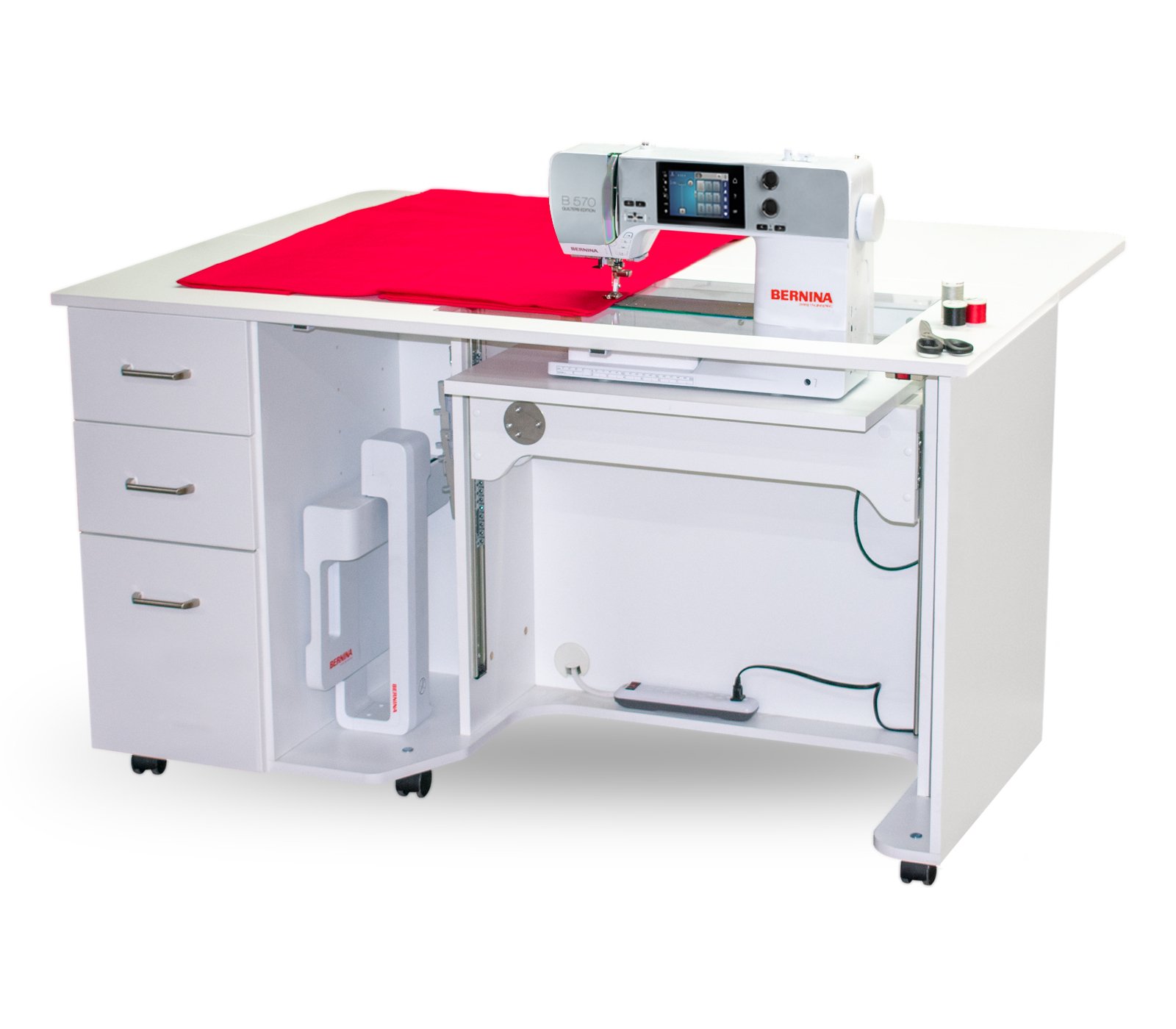 BERNINA
Serging Studio
---
Q24 Longarm with Frame
---
Q20 Longarm with Frame/Cabinet/Table
NEW RELEASE!
Q16 Longarm with Cabinet/Table
---
Quality Craftsmanship and Superior Customer Care...

Swiss quality workmanship
Excellent warranty
Great support: in person, by phone or online
Free
Machine Mastery
classes specifically designed by
BERNINA
for
BERNINA
sewing and quilting machines
Authorized service and repair by trained
BERNINA
Certified Technicians
Financing available (on approved credit)
Come test drive a machine today. Let our friendly knowledgeable staff assist you in your machine purchase.

Learn more by calling us at 907-789-7900.